Now that we've shared our favorite
cookbooks
, here are some of the tools we use to make our time in the kitchen pay off.
These kitchen gadgets make meal prep a snap. They also make great gifts (hint, hint)!
Best wishes for some happy cooking.
Mangia! Mangia!
Andrea, Amy and Erin
Disclaimer: These ideas are solely the opinions of your favorite bringers of hot dinner. No companies or manufacturers asked us to provide reviews or compensated us for writing about their products.
Andrea's Picks:
Foldio
: If you're reading this blog, you probably take pictures of food just like us. This cool portable photo studio is on my wish list this year. I always struggle to reduce shadows in my foodie photos and this little cube does that and so much more. I hope Santa is reading this post. --Andrea
Microplane Zester
:
I use this tool at least once a week. It's super handy for zesting oranges, lemons and limes, fresh ginger, garlic and any number of other ingredients, including Parmesan cheese. --Andrea
Miu France Stainless Steel Professional Mandoline Slicer
: My husband picked this up several years ago and I'm glad he did. The mandoline makes slicing potatoes and vegetables a breeze.
Packet Potatoes
come out so crispy when prepped with the mandoline. --Andrea
Oxo Good Grips 7 Piece Liquid Measuring Beakers Set:
These beakers are making my time in the kitchen a bit less crazy. I no longer need to search out my measure spoons because these little nesting cups are always easy to find. The stable bases do indeed prevent spills and everything cleans up in the top rack of my dishwasher. --Andrea
Erin's Picks:
Zyliss Ice Cream Scoop
: My mother-in-law bought us this ice cream scoop a few years back, and it gets a lot of use. You see, I eat quite a bit of ice cream. Most nights the husband and I scoop up a frozen treat after we tuck the kids into bed. Chocolate chip cookie dough for me. Vanilla ice cream with bananas and hot fudge for the husband. I consider myself a bit of an expert when it comes to ice cream, and this handy gadget makes scooping ice cream a treat in itself. --Erin
Amy's Picks:
Curious Chef 3-Piece Nylon Knife Set
: I got these knives for my own curious chef, my daughter Penny, 6, so that she can cook alongside me. I welcome the help cutting veggies for my
Pressure Cooker Chicken Noodle Soup
or chopping dates for a cake or for my
No Sugar Banana Bread
. Perfect stocking stuffer for the young sous chef in your life. --Amy
KitchenAid Pouring Shield
: I bake a lot and I always double the recipe. Without this shield for my stand mixer, my kitchen would be covered in a layer of flour. Essential item for bakers. --Amy
Le Creuset Stoneware Butter Crock
: I got tired of buying spreadable butter and wondered why we can't just leave real butter on the counter like the French do. Well, with this handy butter crock we can. Just fill the bottom with a bit of cold water and pack the butter into the lid. My husband was skeptical that it was $40 well spent until he realized how much easier fixing the kids' waffles and toast before school is now. --Amy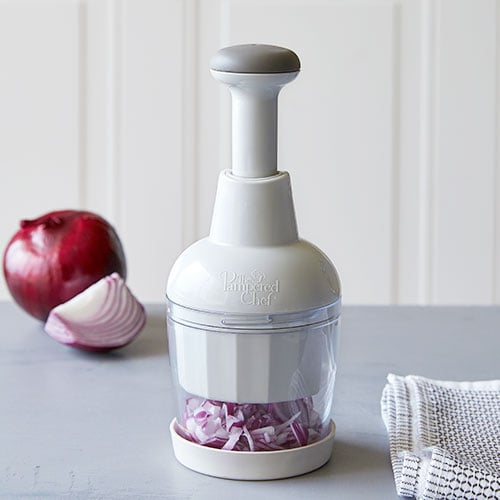 Pampered Chef Food Chopper
: My mom got this handy chopper for me and I use it mostly to chop nuts to go into baked goods. It's also good for chopping vegetables like celery and onions. Added benefit: decent arm workout. --Amy
Spicy Shelf Patented Spice Rack and Stackable Organizer
: Christmas came early for me. My husband recently picked up two of these stackable spice racks at our local hardware store and put them together for me. I wouldn't care if he didn't get me anything else, because I've been looking for a way to organize my spices for ... well forever. I like that it can adjust to fit a narrow pantry or expanded and even doubled for a wider cabinet like mine. I also like that you can adjust the levels so you have a row for small bottles like cloves and saffron and a row for taller bottles like oregano and paprika. --Amy